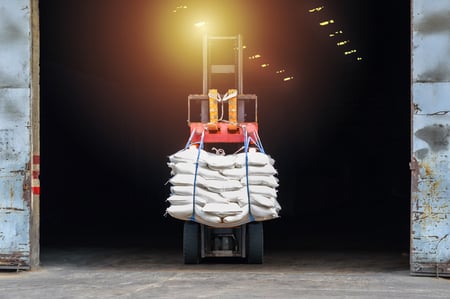 There are few industries as brutal on their equipment as the food industry. That extreme wear and tear comes in part because of the many challenges and needs specific to the food industry. It's also because forklifts, AGVs and the power systems that run them aren't the food industry's strategic focus; making and shipping great products is what they do best. Because of that, when the rigors of the food processing industry inevitably start to wreak havoc on their equipment, batteries and chargers, they don't have the expertise and/or power management system in place to identify root cause issues. They also lack the ability to make quick, necessary changes or improvements without a significant operational or capital expenditure. This has become especially true for those bursting at the seams with piece counts growing as ecommerce/Direct to Customer became a larger percentage of overall order volumes.
Just as crucially, they don't have a good system in place to help prevent those problems from occurring again.
It's hard to manage a food processing supply chain. Not only does it have a lot of requirements, but it runs hard -- and tends to bump up against a lot of safety and FDA issues, too. Because of requirements specific to food production, material handling processes can be highly inefficient and a major contributor to cost, safety, and downtime issues. In fact, inside a warehouse, it's a top four cost.
But with the right system in place, those costs can -- and will -- come down. In fact, food processing material handling costs can usually be lowered by as much as 30%, while simultaneously increasing overall safety and productivity. But that can only happen if you assess and redesign current and future equipment around your applications' needs with a strong management program in place.
All food processing companies need a well-designed material handling system to really succeed Before you create yours, consider the following five factors:
The 5 Material Handling Issues of Special Concern to Food Processors
1. Cold Temperatures
Working in food processing means dealing with items that have to be refrigerated or frozen. In other words, you're dealing with a lot of cold storage. And cold storage can be absolutely destructive -- not only to forklift batteries, but to the forklifts themselves. Extreme temperatures are (literally) murder on batteries and equipment.
2. A Wet Environment
An FDA-compliant facility is not only cold -- it's also wet. It's not just from condensation. A clean facility needs to be constantly sprayed down, especially if your business is meat processing. There's no way around this constant spraying and sanitizing -- it's required by the FDA. But if everything in a facility is being sprayed and sanitized, that means everything, including forklifts and their batteries. In other words: many elements that should not be getting wet are often sprayed down, so this is a major consideration when designing your maintenance approach and processes.
3. Safety Requirements & Cleanliness
All industries are beholden to some kind of safety or cleanliness requirements. But in few industries are these safety and cleanliness requirements as crucial as they are in food making, food processing and food packaging. FDA standards are stringent. And to meet those FDA requirements means you need a professional service organization in place as part of your process: you need people who can align with FDA guidelines, from bagging items according to regulations to knowing how to protect your equipment.
4. SKU Proliferation and Higher Order Throughput
As e-commerce continues to grow in the food industry and direct-to-consumer becomes more and more of a focus, packaging has become a major hurdle. Direct-to-consumer means that facilities have to take massive food bins and pallets and break them down into small caches that can be sent directly to the consumer. That means SKU proliferation because smaller amounts add up to more volume and additional SKUs as pallets are broken down for at-home customers. Food processors tend to be high-velocity facilities already. The increase in demand for direct-to-consumer means that facilities that are accustomed to moving one thousand pallets a day still have those thousand pallets to move -- but now, they have to get them out the door in smaller increments. That means a lot more orders and potentially a change in material handling processes, which can put additional strain on equipment and power systems being used in applications they were not initially intended for. Is your material handling and power system built to be able to flex as needed when applications change?
5. Environmental Sustainability
More and more food processing companies are trying to move away from "dirty" fuel sources like propane and transitioning to clean energy options that are environmentally sustainable. This isn't just because it's the right thing to do or even for the FDA. Environmental sustainability is what more and more customers are coming to expect. (It's also something that has helped many companies weather the pandemic successfully.)
All this is fantastic, but it does require most companies to overhaul their current, non-sustainable power system. That means thinking about your material handling needs and using data to ensure the system you build will be sustainable and maintains your uptime. If your propane trucks are coming up for renewal, that's probably a great place to start. (This blog has some tips for conversion to electric.)
If your business is food, then your business is ever-evolving to meet finicky consumer tastes—including how they buy and receive products. If your aim is to stay competitive – and we're willing to be that it is! – you need to design and manage a material handling system that will help you deal with the special challenges the food industry presents.