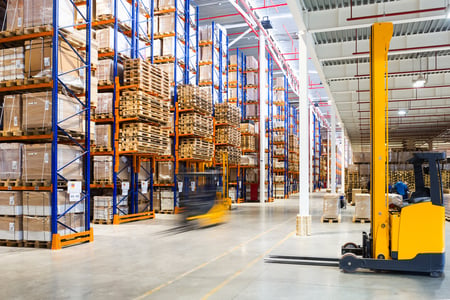 Downtime is a four-letter word in material handling. Yet without a consistent and comprehensive approach to forklift maintenance, it's only a matter of when--not if--operations grind to a halt.
Without a doubt, it pays to mitigate--or outright eliminate--forklift service interruptions. The costs of lost productivity due to repairs or recharging can add up, and an inability to prevent future downtime incidents can cause future stress. That's why there is an advantage to implementing a planned maintenance strategy that encompasses:
Preventative maintenance, which includes the inspection and testing of batteries, battery chargers, and connectors, as well as assessing future repairs and maintenance needs. This is where safety repairs must be emphasized as well.



Consistent battery watering

, using a watering cart system that can ensure accurate watering volume and pressure--also the proper iodized water. While battery watering seems "easy," it requires the right timing, consistency, expertise, and the correct equipment (i.e. watering right before charging a battery is a big no-no).



Regular battery washing, which includes applying neutralizing agents to remove corrosion and/or escaped acid electrolyte, as well as cleaning the outside of the battery with appropriate tech (e.g., a recirculating neutralization system). Doing this without damaging your battery monitoring system, etc, takes intention as well!



Data-driven maintenance strategies leverage a battery's planned maintenance data and operational data to provide a clear path for anticipated lifespan and potential repairs. Adhere to PM results/recommendations and battery life can extend up to 50%.
Getting forklift service interruptions down to zero is a lofty goal. It can also be somewhat overwhelming for companies that lack the necessary people and resources for a long-term planned maintenance program.
"In a lot of cases, forklift maintenance is a responsibility that falls to someone who already has a full plate (repairing forklifts or maintaining the whole facility) and is adding it to their job," says Ryan Lynch, a vice president at Concentric. "What happens in that scenario is that no one is really accountable, and key maintenance activities are being trusted to busy people who may know what they need to do but don't have the time and knowledge to do it optimally or identify opportunities for improvements along the way."
Companies may have the additional challenge of managing a hodge-podge of chargers and batteries accumulated over time, which makes maintenance more complex.
Not that material handling teams are expected to know the ins and outs of forklift power solutions. Managing and understanding forklift equipment and their power solutions is a full-time job all its own, and one that requires the means to collect, analyze, and utilize data to drive enhancements. For this reason, more and more material handling operations are entrusting the task to outside power specialists.
For example, Lynch adds, "When customers sign on for our ConcentricCare Planned Maintenance program, they've usually realized they need a partner to effectively manage their forklift power solutions, as well as create a maintenance and equipment roadmap that will keep them running."
Ultimately, he adds, "The goal of any planned maintenance is to get operations to zero service interruptions. That often means bringing someone in who can act as an advisor and ultimately become accountable for operations, assessing forklift power needs, gathering the relevant data, and using it to drive improvement opportunities."
Giving downtime the boot
Supply chains are already under extreme pressure as it is. Now is not the time to add avoidable equipment failures and downtime to mix.
If zero downtime is a goal, you must have a planned maintenance strategy to keeps your material handling optimized. Leveraging a power specialist is an efficient way to ensure experts oversee your maintenance and help you plan for whatever changes the future may bring.