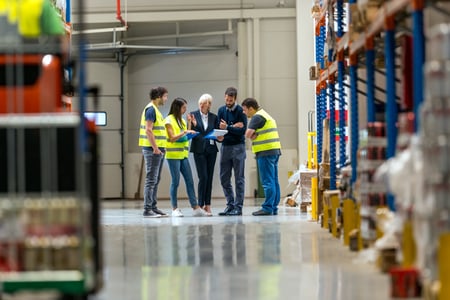 If you're running a business—particularly now—you're probably looking for every advantage. Whether your business is big or small, your supply chain is key to your company's success.
Historically, many CEOs don't acknowledge how crucial their supply chain is to their overall business strategy. In a 2018 survey, CEOs ranked the supply chain as "relatively unimportant in driving cash and growth," demonstrating that even sophisticated business executives who came up through other functions don't always comprehend its value.
And that value is not just our opinion. According to the Logistics Bureau, 79% of companies with high-performing supply chains realized greater-than-industry-average revenue growth, while only 8% of businesses with "less capable supply chains" could report the same kind of growth.
Building a "high-performing" supply chain takes thought, time, and effort—but, as is more apparent than ever in today's economic uncertainty, the payoff for your business is immense. Here are the top five inner workings we see from successful companies that run growth-oriented supply chains:
1. Ensure Your Supply Chain Investments align with Company Value Proposition and Strategy
Every business has a supply chain strategy, but the secret to success is relatively simple: the supply chain strategy should be built to support the business vision. What differentiates your company? If you focus on a premium, innovative offering, you may need a white-glove delivery program that arrives within 24 hours and provides a simple return program on the box. For a company like Walmart, it's all about price, then choice. They've invested heavily in integrating their ecommerce/supply chain approach across their DC and retail stores to provide customers the choice of delivery, pickup, or in-store shopping. Tesla's model is to be other-worldly innovative, so their buying experience doesn't involve major dealer locations holding inventory in each market. Ideally, every company's supply chain decisions would be driven based on business strategy and how the customer wants to do business with them.
2. Ensure your team can articulate and execute on their risk management plan
This pandemic has proven the importance of an agile supply chain. Dun & Bradstreet recently reported that around 51,000 companies utilize a direct supplier located in the Wuhan province. This area was heavily hit by the ongoing crisis and exporting materials and supplies became difficult. Many companies are making significant changes so they are no longer "single-country sourced," not just multi-supplier sourced. Of course, while you can prepare for eventualities, it's almost impossible to predict everything that can go awry—which is why it's important to have back-ups for your supply chain. One company, preparing for price volatility, created several "recipes" for its cleaning products, enabling it to switch between raw ingredients and supply chains—and this likely paid off in an unexpected way when the pandemic caused product shortages.
Ask yourself (if you haven't already): what will you do if another global shutdown period occurs or one of your facilities has a major issue? Is there redundancy in your system?
3. Ensure Supply Chain KPIs bubble up to the C-Suite
If you're not collecting data on every step in your supply chain in a consistent way, you'll need to make sure that's your first step. Then, get your key performance indicators (KPIs) aligned and reported the same way from the top to the bottom of the organization. What you need will vary, depending on your business and your market, so it's important to get the right people to weigh in on what's really important for your company. Check out these suggested KPIs as a starting point—and note that "disruption impact" is emerging in importance because it weighs your supply chain's resilience in the face of disasters.
4. As you drive toward omnichannel, prioritize high-value customers, channels and locations
The grocery industry, a notoriously tough supply chain because of the number of perishable items, has done this very successfully. For example, Kroger's, a regional grocery chain, supplies stores according to anticipated demand, with some stores receiving daily shipments and other, busier locations receiving multiple deliveries. UPS announced this past week that its WES system can help companies with just this type of initiative.
5. Be able to flex-on-demand
Another important component to business success is the ability to respond to significantly increased and decreased demand. Recent world events have proven the necessity of this, but many companies still struggle with flexing to meet demand during holidays or other seasonal times. Do you have a flex strategy in place? Do you have vendor partners that provide you OnDemand solutions? Use of OnDemand Warehousing to enter a new market with last-mile delivery or peak season for a unique product mix are good examples.
There are many other places where this type of solution can come into play, including temp workforces, material handling equipment, etc. Once you have one in place, stress-test your solutions, especially your vendors, to ensure everything will work when push comes to shove.
Following this framework will have your supply chain and team well on its way to aligning with your business's purpose and your customers' changing requirements. You'll also change your supply chain from a reactive model to a proactive one. That means your business will be better protected against everyday and unpredictable events.
If you'd like to learn more about how Concentric applies the proactive vs. reactive model to material handling—an integral part of the supply chain—check out our recent blog.