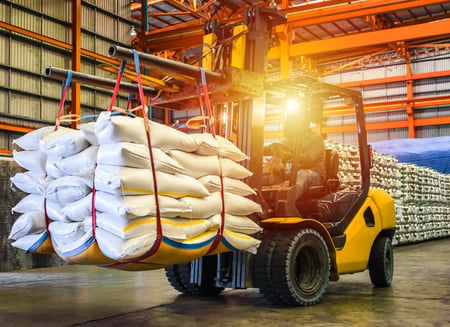 Jerry Murphy works at Sikich as the partner in charge of the manufacturing distribution services for the CPA service area, a multidisciplinary practice that encompasses audit tax accounting, technology, investment banking, wealth management services.
We like to think of Jerry as a "fixer" because he helps Sikich clients when they know they need business assistance but don't have internal resources or outside connections. In addition to their other job duties, Jerry and his colleagues act as a business facilitators, making introductions to the appropriate departments.

I knew I wanted to have a conversation with Jerry after happening upon the Manufacturing & Distribution Report while doing research. After reading the survey report and learning more about Jerry, I knew his perspective on last-mile distribution in omni-channel would be invaluable to our readers.
Here's part 2 of our interview. (You can read part 1 here and can check out the survey here.)
Ryan:
Are there any business processes that you see regularly when you're working with manufacturers and distributors that are "quick wins" in terms of moving from paper-based to digital?
Jerry:
There's been an increase in the interest in robotic process automation, which can digitize some of your back-office functions. Sikich has invested internally and externally in RPA, so that's become something fun. Of course, a lot of that newer technology is now being built into the ERP software solutions from Microsoft and Oracle and SAP. As more and more of that technology is in the cloud, it'll be added regularly and become available much more readily. For those using a cloud-based product, it'll just continue to improve your business processes. For example, using RPA is a great way to eliminate laborious tasks that employees don't enjoy doing, allowing them to get engaged in areas that more exciting and interesting to them.
Ryan:
Can you give some examples of processes that RPA helps by automating?
Jerry:
RPA can be used in just about any type of environment where routine keystrokes and data entry is necessary. So, for example – for entering sales order information payroll information, you could teach a robot bot what those keystrokes are and where the information could be obtained.
Ryan:
How easy or difficult is it to program the bot?
Jerry:
I think that from our experience, you would need to have an external resource provide the bot to you. There are many different ways that you can acquire that – either outright purchase or essentially renting or leasing it. Then, have an external party train your company. If you have an internal talent with the skill and resources, you may want to invest and allow them to do it. Otherwise, use the external party to work with the internal client to develop each of these processes.
I think in the future, this kind of technology will become very commonplace. As the large software authors put that type of technology in their software, more and more of this will just occur internally because they'll make it very routine. The interface with the user and the bot will become more understandable and developers will make it easy to accomplish these repetitive processes using a bot.
Ryan:
Yeah. It's kind of like, 20 years ago, if you were trying to build a website, you had to know code to do it. Now most of us can build a website in about 20 minutes because there's an easy wizard.
Jerry:
That's right. Great example.
Ryan:
I would love to kind of talk a little bit about what Sikich does, particularly around cost management. Almost half of folks in the survey really wanted to be able to control and reduce costs. And this is something we see. Pretty much every facility we walk into says, "Hey, I've got a priority to move more product every day this year than last year to more channels. At the same time, I've got to take 10% of my costs." So, what are the challenges and the opportunities you're seeing?
Jerry:
Well, there's probably a two-pronged approach. You've got customer-required cost containment, and then you have your internal cost containment. The business owners and executives we work with are constantly speaking with customers to understand what their needs are, improving the product or taking costs out of the product when there isn't a value proposition. We've seen manufacturers that removed a labor component after talking to a customer and finding out that work the manufacturer was doing around, say, deepening a casting wasn't really necessary. So, I think it's imperative that executives talk with their customers and, and understand their needs surrounding the products that they sell, how they can improve them, make, and then also make them more cost-effective.
Ryan:
Would you say, by and large, most of the manufacturers and distributors have their arms, you know, to control costs for a chef to have your arms around them all, you've got to have them all in the right buckets so that you can see them and, and it's easy to see them and slice and dice is that by and large, does everybody that down cold now?
Jerry:
I think in general, most businesses feel like they have their arms around it because that information is available on a dashboard – but I also think there are items that they don't understand well enough to know how to take waste out. Freight, for instance, is extremely challenging and it's becoming increasingly more expensive. Many, many business owners and executives have worked at trying to reduce freight costs, but they don't always have a vendor that can appropriately reduce the cost or maximize the savings.
The complexities in that area make it challenging for them to really get all of the wasteful costs out of that line item—and I'm sure you also have many examples in your industry. Business owners just aren't familiar with the techniques; they may not have had been through an educational process or belong to an association that shows how to reduce costs and various line items they're not as familiar with.
Ryan:
This gets into another interesting topic: the balance between CapEx and OpEx and financing and the point where these things start to make it hard for a facility to make changes because of the way budgets are set. Do you see that as a challenge for businesses?
Jerry:
The challenge is that unless the executives and business owners understand the cost of projects and the return on investment, they may not budget for them. They may not try to take them on. They believe that they're too expensive and they don't necessarily know what kind of return and cost savings will result from that investment. The current tax law is very friendly with respect to investment in capital goods. You currently get to expense 100% of those goods, so that helps because the tax savings will help pay for some of that investment initially.
There's also the mindset that business owners do not want to take on significant amounts of debt. They like the cash flows that they currently have; using debt and that cash flow to pay that debt is something that they had been trying to avoid. After the great recession, deleveraging was a huge topic and it probably only recently has waned a bit – but many of the businesses we work with are laser-focused on deleveraging their business, so in the event of a downturn, their cashflows weren't being drained by debt requirements. And that avoiding the risk of having debt oftentimes stifles some of the CapEx and investment.
Ryan:
One of the things you talked about is that businesses feel like they're building flexibility to scale up or scale down. To your point, deleveraging is one of the ways you do that, right? What are the core things that executives feel like are flexible about their business today that maybe they didn't have 10 years ago?
Jerry:
I think it's a number of factors. I think there has been investment in robotics that allows for an increase in productivity whether it's robotic welding or moving products around, maybe at the beginning or end of a production line. That investment in equipment helps them increase their output. But they're also spending a lot of time and effort developing temporary work arrangements with the service providers that can provide them the talent they need to increase their headcount when they need it and decrease it when things begin to slow down. They're investing a little bit of energy in part-time workers – those individuals who only want part time. Identifying and finding those people can often be a way to meet additional demand and scale back when the demand isn't there to support a part-time worker.
Ryan
What are one or two recommendations you'd make in the manufacturer and distributor space? What is something you would tell them to weigh heavily as they go into 2020?
Jerry:
I think that they need to be strategic and ensure that they're considering the adoption of technologies to connect their supply chain to their business, as well as connecting to their customers digitally. Making that investment and taking the time and effort to accomplish those goals will only make them more successful in the future and more competitive.
Ryan:
I enjoyed we enjoyed kinda digging in on this and thinking about some of these topics. Thank you so much for your time.