What happens when your customers no longer go to the store to buy your products? Worse, they may have a surrogate shopper (via InstaCart, Shipt, or the retailer) building a pickup or delivery order, which means that, even if your consumer chooses your product, they might receive a different brand's product if yours is out of stock. These are some of the issues outlined by the great acceleration to online that is happening as highlighted in these info-packed charts.
For example, brand power is shifting from brand "strength" to its availability, convenience, and value (re: price point), per the chart below: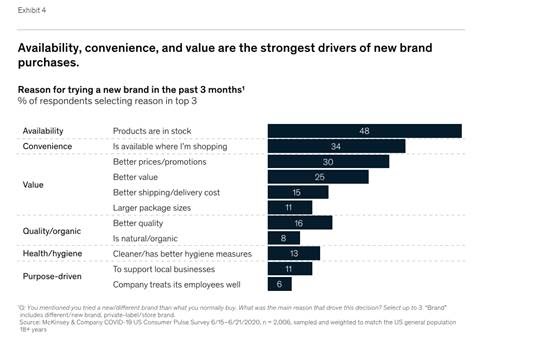 One of today's big consumer marketers, Gary Vee, highlights how this trend will get even more pronounced as voice-device ordering grows in homes, a la Alexa, Siri, and Google Assistant. (Don't miss his video here.) Brands will become both more and less important than ever. That might sound like a riddle, but it means your brand will be a giant or nothing. In other words, the middle ground has fallen away.
So, if you are a manufacturer, how do you leverage these trends to your advantage?
1. Get your team focused on the consumer
Execute a team assignment and ask all staff members to order via multiple platforms. The best program would be to have them do their own personal shopping online a few times (if they don't already). Options include Amazon, Walmart+, Wayfair, Target, local grocers, Instacart, Shipt and others. For extra credit, get them to do a few ride-alongs with "surrogate shoppers" who build pick up and deliver orders for consumers.
When they come back, have them all report their experiences. Be ready with questions:
How's the consumer experience?

What would you have the vendor change online?

What would you change about your own approach to ordering for next time?

How was the delivery and pickup process?

How does our packaging work for home delivery?

What types of products did you gravitate towards?

Did our brand show prominence?

Did you order more or less than you would if you'd gone to the store?

What did you do if you couldn't find the product you wanted?

What did the online system do if it didn't have in stock the product you wanted?

How does naming, packaging, and category impact search features?

How do you get your products to be more prominent? Discounts? Couponing/ads/etc?
2. Have them compare the different online systems.
Here are my recommendations on how to tackle this:
Ask them to compare a traditional retailer's site to an online aggregator--so, Shipt vs. Target, Walmart+ vs. Instacart. Then, do national vs. regional/local, like Publix vs. Target/Kroger. If you don't sell food, do the same for your top categories. For example, compare Wayfair to IKEA, etc.

Next, talk about the different types of customers and what they want and need. What types of customers are using Walmart+ vs Amazon Prime vs. Instacart? Is there a difference between a Walmart and Walmart+ member? How are the local retailers' online systems? What does that mean for their longer-term market share and how much product they will move as more people shop online?

Finally, realize things are changing FAST. If you can get employees to talk to consumers in your target categories, do it. Find out what they are enjoying or not about these vendors and what they think has meaning in this new customer experience.
3. Look at Product and Channel Management Through the Lens of Online
Start with your current product lines and offerings.
Select which ones are most likely to win, as currently positioned. Which ones could win if repositioned? Which ones are not going to win in the near term and/or can be retired?

Match your products to a 2 by 2 matrix on Essential/Non-Essential and Premium/Value offerings. Then, match the consumer categories (the ones in the McKinsey article with the charts I cited earlier could work) or use the personas/profile you already have. From there, build out strategies for each. This starts with channel and S&OP teams.
Then, tackle your next steps:
If you are providing staple products, you may need to look at your price/value brands and make sure you have them available. Which channels will these win most in? Are there ways to promote them on each of these channels?

Get focused—you've brainstormed quite a bit to get to this point, but now narrow back down. Get focused on 1-2 channels/product priorities by team. They'll need to consider stocking levels for the channel/product line they own.

Consider your stocking levels by product and channel. Work with your channel managers to reconfigure counts/inventory space.

Is your product category something that customers feel the need to be brand conscious about? If not, maybe you should rethink your cost model, your packaging, and what you are offering? Skew towards your price-based offering, not your premium offering. Work with your retails to change how much product they are carrying of each, as well as with your S&OP team.

Bottom line: You may need to reallocate resources from winning the retail footprint battle at brick-and-mortar stores to winning the "virtual retail footprint" online for the same channel partners. These are different tactics and may require different skill sets—your leaders in these areas must know consumers, technology, and possess an ability to work closely with retailers and online vendors. Your brand teams may also have to reallocate ad spend to influencers/social channels and be ready to pivot consistently—are your team members up on TikTok, Youtube influencers, etc? You may also need to add new channels/online partners regularly—who's scanning the changing landscape constantly?
4. Deprioritize focus on non-strategic parts of your supply chain
Transportation – Do you own your own trucks/drivers? Should you? Can you find forward-thinking transport partners that can provide visibility as well as guarantees for on-time delivery and cost structures?

Intralogistics - Material handling moves product. Done wrong, it has massive implications on the labor/operators, space requirements and cost per each at your facilities. That said, you should be able to find partners that can deliver you a material handling workflow and equipment management program at a lower total cost with high flexibility and transparency—all at your own locations so you can still own the customer experience, or you can consider a 3PL.

Yes, these pieces of your supply chain are critical, but they aren't strategic—so anything you can do to get your people focused on strategic issues, the better! What other examples can you think of to deprioritize?
I didn't say this would be a quick process! It's true that there are a lot of things to consider, but as the stakes get higher, it becomes more and more important that you cover all your bases. If you want your brand to stay competitive during the "great acceleration to online," make sure you not only do your homework, you build a strategy.