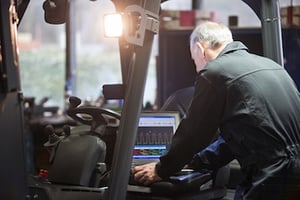 Many business owners and operations managers struggle to reduce motive power costs. Often, they undergo paralysis by analysis; they know they're not maximizing the potential of their motive power fleet, but they don't know where to start in addressing the underlying issues, issues that are contributing to overall poor performance.
However, the longer you wait, the more money you're losing over time.
Though we might sound like a broken record, a site assessment is always the starting point. That's the only way to uncover any potential issues in your motive power operation. But for the sake of today's topic, we'll assume you've undergone an assessment. Once you have, here are three issues that could be addressed to lower your costs over the long haul:
1. Battery and Charger Planned Maintenance
Much like a site assessment, this one should be obvious. Ensuring that your battery and charger planned maintenance (PM) schedules are in place will go a long way toward lowering cost. Keep in mind the frequency of your PM is determined by the type of application and annualized hours of equipment utilization. Believe it or not, the battery and charger PM is as equally important as the forklift maintenance itself. That's what makes it so shocking that many motive power operations neglect these critical PM schedules.
2. Battery Equalization
Standard or basic chargers have an equalization button that must be manually pressed in order for the maintenance charge to occur. Much like with battery watering, the equalization maintenance charge is often neglected by operations who handle this kind of maintenance internally, and the neglect contributes to significantly shorter battery life. However, by updating the charger technology with a more sophisticated charger that utilizes "Real Time Clocks," you can control the equalization or maintenance charge, and ensure that you're doing it weekly.

3. Single-Point Watering Systems
Single-point watering systems are a controlled way to administer the watering procedure that should take place on a weekly basis as well. Overfilling the battery water reservoir normally happens when the batteries are watered manually. This non-controlled watering practice causes the battery acid to be flushed from the battery cell and contributes to poor battery performance. This poor performance starts immediately. While the procedure takes precision—overfilled batteries will definitely boil over—the practice will actually save you labor costs due to its efficiency. With a single-point watering system, it only takes two to three minutes to water a battery. In comparison, it takes 20 to 30 minutes to water a battery manually.
Remember: the Order Matters, Too
A big a-ha! moment for motive power operations often occurs when they find out they've been doing their maintenance in the wrong order. The single-point watering procedure should occur directly after the maintenence or equalization charge cycle of the battery. This will also help avoid boil-overs. This is just another illustration of how there must be a serious focus on PM; and that means not simply doing it, but doing it correctly. Working with a motive power management company—whether for stand-alone PM service or through an all-inclusive contract—can ensure your maintenance gets done, and gets done right. That alone will allow your operation to take a giant cost-cutting step forward.

To learn more about how you can reduce your motive power costs over the long haul, download our Motive Power Buying Guide.