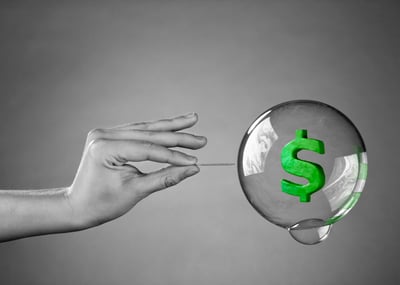 Supply Chain Management Review released an excellent case study cross section done on large, public manufacturers with large supply chains.  Their purpose: to discover whether supply chain-driven companies are more or less prepared for the coming recession than in the Great Recession of 2008.
I was fairly shocked at the results.  Overall, most companies fare worse on most metrics that matter: see figure 2 and 3.  Specifically, while most have increased revenues, they've done it at the expense of profit margins and have added more people than their revenue growth dictates they should.  So much for the more productive worker impacting the supply chain industry over the past ten years!  
In addition, businesses have a higher percentage of fixed costs today, meaning it will be harder reduce them—much like it will be more difficult to downsize personnel—when the time comes as revenues fall.
Where the study fails is providing some concrete ways to address the issue.  Here are four to consider:
1. Reduce fixed cost ratios by outsourcing more capital into services.
For example, material handling equipment, maintenance and data drives cost per pallet moved.  Rather than owning your own, why not outsource it at a variable rate based on cases moved?
2. Ensure you invest employment in those people and skills that are core to your business strategy.
This is crucial to get employee headcount in line with revenues. Where are their parts of your business that are non-strategic to you that you can leverage others who are immersed in the business each day?  For example, a 3PL is a great outsource option for distribution services.
3. Stop trying to own everything.
Your business shouldn't be ruled by the capital vs lease calculator. Why? It can't take important factors like strategy into account. For every capital purchase, ask yourself these questions:
a. Is this asset core to my business from a strategic standpoint?
b. Will owning it make me more or less flexible to changing needs in 3 years? 5 years? 10?
4. Consider partnerships.
A true partnership allows you to concentrate on your company's core strength by outsourcing areas that eat up money and time. If you want insight into what areas can be successfully outsourced, evaluate areas where partnerships are easier to setup, contract and hold accountable than non-core activities.  
For example, as a forklift and reserve power management company, Concentric helps folks get out of the power business every day so they see significant increases in their supply chain uptime.  But on the backend, we find that our business is stronger when we outsource non-core functionality, like transportation, lead acid recycling, service vans, IT help desk, and more. Why? Because these are critical, but non-core functions that others can perform better than we ever could.
While all four of these steps might not be right for your company, it's worth considering whether any may be beneficial. De-risking your business is important preparation for a potential downturn—but the mindset is also a healthy discipline to engage in no matter what!