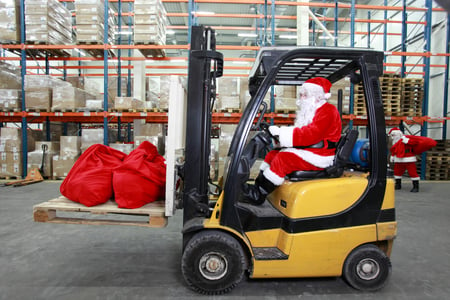 Struggling with supply chain delays? You're not alone. Industries of every stripe are facing sourcing disruptions and longer lead times for critical materials and inventory. This includes material handling stakeholders who are waiting much longer than expected for the forklifts that keep their businesses moving.
It's a challenge that's leaving even the most well-prepared operations at risk. And with no end in sight for supply chain disruptions, relief isn't likely to come soon. Fortunately, there are ways to bridge the material handling gap.
"Everybody is dealing with supply chain challenges, so now is a great time to consider alternative forklift management options and power strategies that will help you manage the wait," says Ryan Lynch, a Concentric vice president.
To that end, staying agile in face of supply chain disruptions begins by asking the right questions:
1. Have you placed your holiday 2022 forklift battery orders? The busy holiday season is fast approaching, and many suppliers have now closed their ordering windows altogether. We've heard of several companies that have been shocked when they've tried to place Q4 battery orders, only to find that their supplier's typical 3-6-week deadline is now much, much longer. Fortunately, while Concentric has also seen lengthening lead times, we're still in a position to fulfill most orders before year end. If you haven't placed your equipment orders already, act now.
2. Does your supplier have multiple options? Some suppliers are limited to a specific brand or technology. This means you may not have access to alternatives that can arrive earlier. Alternatively, sourcing with technology- and brand-independent suppliers may reveal more flexible solutions that will bring equipment to your warehouse in shorter timeframes. Suppliers that also help you think about financing option, paired with equipment choice can help extend the lifecycle of your fleet in a cost effective way.
3. Are you using batteries to extend the lifespan of your existing forklifts or leases? A fresher, healthier battery may give your equipment the boost it needs to live longer than it would with older power solutions. And given that lead times for batteries are much shorter than equipment, buying or leasing new batteries is a viable power management strategy.
"One way to extend and improve the productivity of existing equipment is to take a deeper look to be sure the power system is optimized," notes Lynch. "You want to be sure you're working with a power expert that has access to multiple technologies and brands of batteries. You need someone to guide you toward a battery that will enhance your operations, as opposed to making a choice limited to the brands they represent."
4. Is maintenance a priority? The last thing you want is to deal with equipment breakdowns while you're waiting for new shipments to arrive. Having a planned maintenance program -- either in-house or with a trusted forklift as well as power specialist -- goes a long way to preventing untimely shutdowns by ensuring forklifts and batteries are being kept in peak operating condition.
5. Have you considered short-term rentals to fill gaps? While renting equipment is certainly not an inexpensive option, it's a viable strategy while you wait for supplier shipments. Be sure to calculate the potential cost of lost business due to too few working forklifts against the cost of rentals; this will ensure this option makes sense for you.
6. Are you rotating assets? It's best practice to use batteries and lifts on an equal rotation. This reduces strain on individual pieces of equipment and extends the lifespan of your entire fleet. This is always a best practice, but it can buy you some time if you aren't already actively rotating assets.
"Surprising, power data can show you more than enough data to drive a forklift rotation program if you don't have or use a forklift telematics package. We routinely help customers rotate fleets with our RAAMS(R) data. Right now, you don't want to be putting undue strain on any one piece of equipment, so it's a good time to take a step back and ask, 'Are we looking at our assets from a usage standpoint and rotating them appropriately to help get us through this peak season?" says Lynch.
7. Do you have a planned maintenance (PM) plan? And if so, does it include a roadmap to an ideal solution? As mentioned above, PMs afford peace of mind during turbulent times. Equally important, however, is for your PM providers to include a roadmap of maintenance activities and investments that will move you toward the best use of your fleet (and budget) in the long run.
8. Are you thinking long-term? Consider partnering with a power specialist who can provide the resources and maintenance strategies to keep your operations flowing for the long haul. At the same time, it helps to partner with a vendor who can build a global view of your company's assets, spend, and productivity so that your team is better positioned to move in this rapidly changing landscape.
This unpredictable holiday season promises to challenge even the most seasoned material handling execs. The good news is there are strategies for cushioning your warehouse against supply chain delays and extending the lifespan of the lifts you already have.