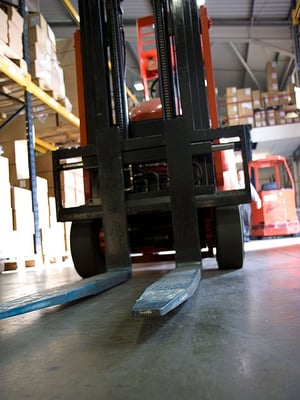 Buying a new forklift is much like buying a new car; a ton of research goes into the purchase, and many of the important attributes are very similar. Unfortunately, for forklifts there's not a comprehensive resource like Consumer Reports to rely on. Often, past experience and your new relationship with a forklift dealer will dictate what forklift you end up purchasing for your motive power operation.
While each operation is different, there are a handful of common-sense attributes to consider when purchasing your next set of forklifts. Today we'll discuss the six most important attributes to consider when selecting new forklifts for your fleet.
---
1. Dealer Support
We mentioned this in the first paragraph, and if you read our blog regularly you know dealer support is something we discuss a lot. Simply put, your forklift dealer will ultimately play a huge role in the success of your operation. Since they'll be making forklift recommendations and providing maintenance services post-purchase, finding the perfect partner is critical.
2. Financing Options
How you pay for your forklifts is another important factor to consider, as is the terms offered for each possible financing scenario. Selecting dealers that provide clear analyses for the ROI and qualitative benefits of buying versus leasing versus renting is an important step in understanding the dealer's capabilities and ability to serve you well—both as an advisor and a service provider.
3. Reliability
Going back to the car reference, reliability is always an important factor for buyers. Take the Toyota Camry, for instance. There's a reason it tops buyer lists year after year. For every unique motive operation, there are reliable forklift brands that can handle the years of punishment these vehicles withstand. Taking into account your application—for example, working in a cold storage environment—is imperative for this aspect, too.
4. Ergonomics
This is one your operators will stand and clap for. Due to all of the sitting and twisting that operators endure during a shift, they are subject to a lot of work-related aches and pains. Forklifts that feature solid ergonomics can allay some of these aches and pains, and ensure fewer workers' compensation claims as well. While this falls under the forklift category of safety, it's still an important aspect to consider.
5. Eco-Performance
With many businesses prioritizing green initiatives, there's no reason why that can't translate to forklifts. Today many forklift dealers offer cutting-edge designs that take eco-performance into account. The beauty of this? While it helps the environment, it can also lower your overall energy bill, too.
6. Current Technology/Unique Features
This dovetails somewhat with #5, and those cutting-edge forklifts we were talking about. Technology-wise no one likes to be left behind, whether we're talking about a smartphone or a forklift. Many of today's top brands have state-of-the-art features that also contribute to higher output and increased efficiency, working hand-in-hand with modern-day batteries and chargers.
What Matters Most for Your Motive Operation?
These are a few of the most important forklift attributes. From your application to your forklifts to your power needs, there are no templates, only customized solutions that all work in concert to maximize productivity. Only you can determine what features matter most to your business—but hopefully this gives you a good head start.
Looking for something a bit more structured? Download our Forklift Partner Evaluation Scorecard which provides 20+ attributes with which to evaluate potential dealers.