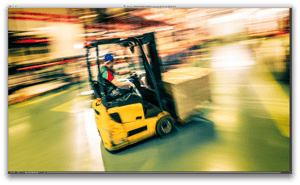 When the time comes to upgrade your forklift fleet, there are many factors that go into making the decision on what forklift brand to buy, and who your new forklift partner will be. Performance will certainly play into your decision, and since each motive operation is unique you'll have to determine the performance factors that will enhance efficiency.
Keep in mind that most forklift dealers have the capability to make tweaks to fit your operation. That's why the dealer aspect of your purchase is just as important as the machines—great dealers do an excellent job of tweaking their machines to meet your unique applications. While performance needs will differ from operation to operation, here are the three performance characteristics most operations take into consideration:
1. Travel Speed/Acceleration of Forklifts
Since forklift operations depend on load, travel conditions, and other variables, there is not a set accepted speed within the industry. Most models come from the manufacturer with a pre-set speed. While a faster speed can increase output and efficiency, this is where safety becomes a crucial factor. For many operations with multiple forklifts and pedestrians, five miles per hour is a safe speed. When it comes to travel speed and acceleration, you really circle right back to your dealer relationship: they should be able to help you fine-tune your forklifts to meet your goals, all while ensuring operator and worker safety.
2. Forklift Load Capacity
The load capacity is the maximum allowable load that the lift truck can handle. This critical information can be found on the load capacity data plate, which should be clearly visible to your operators. The load-carrying capabilities of forklifts differ; while a typical forklift can handle loads of one to five tons, heavier-duty forklifts can reach load capacities of up to 50 tons. Obviously, the material you're handling will determine this aspect of performance more than anything else. When a load truck ends up handling a load too large, a variety of safety hazards occur, such as tip-overs and falling loads.
3. Forklift Battery Life and Health
With electric forklifts, the batteries provide the power, making them integral to your operation. All trucks are sold with some guidance on standard battery types/sizes. In most cases, the application and utilization requirements of the operation need to be deeply understood to size the battery and chargers appropriately.
Ensuring you have a motive power partner that sizes your applications' power needs upfront is critical because battery and charger system are tied directly to a forklift's performance and total cost of ownership. Having a smart power partner ensures you don't under- or over-size the power system you need. This way you can avoid over-investing in batteries on the front end, as well as downtime due to poorly powered vehicles later on.
Just like the truck, make sure you understand the power partner's plan for maintaining your fleet so you get the full performance and life out of your assets.
With Forklifts, Performance and Safety Go Hand-in-Hand
As you can tell from the preceding paragraphs, in the material handling business performance must be carefully balanced with safety, especially in regards to travel speed and load capacity. That's why choosing your next forklift and forklift partner is such a crucial decision: you must find a balance between maximizing efficiency and ensuring that your employees are working in the safest environment possible.