Understanding the safe use of a forklift is a non-negotiable prerequisite for lift truck operation. There are thousands of forklift accidents that occur every year, and dozens are fatal.
But while forklift safety may start with drivers, it certainly doesn't end with them. There are many things a facility manager can do to promote forklift and pedestrian safety throughout the work area, including careful warehouse design, which can greatly benefit workers in and out of the driver's seat.
Reduce blind spots
Few situations are as dangerous as when one employee on foot and another operating a forklift don't see each other. One in five forklift-related accidents involve a pedestrian, according to the National Institute for Occupational Safety and Health. Reducing blind spots in a warehouse can go a long way toward preventing these types of incidents.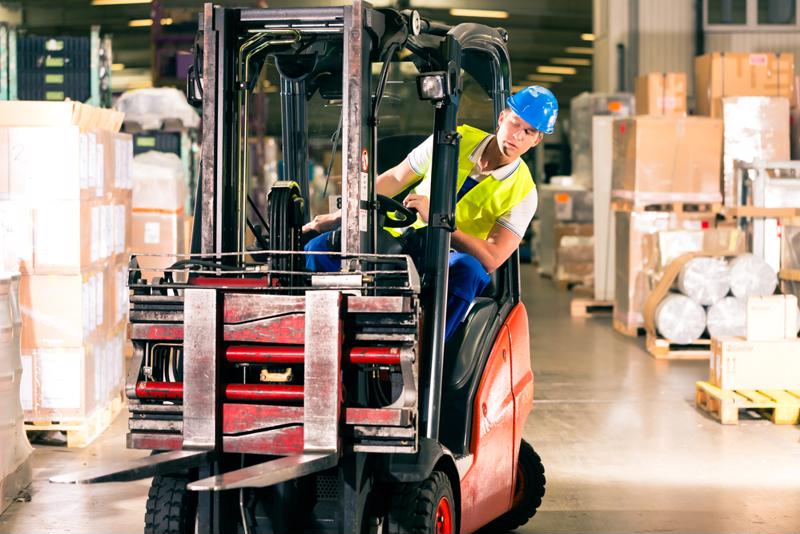 Overhead dome mirrors are one of the most economical and effective methods to increase visibility at blind corners. These allow pedestrians and drivers alike to check in all directions for any pedestrian or forklift traffic.
Planning for excess inventory is also beneficial. When facilities don't plan for large deliveries or buildup from shipment delays, they may stack overflow in any open space, including corners or cross aisles. These obstruct vision and create barriers that are difficult to navigate around. Preparation can prevent dangerous situations later. This also ensures that surplus supplies or product won't be stacked to an unsafe height or overload a rack's weight limits.
Manage facility traffic
Just as many roadways have designated bike lanes, bus lanes and crosswalks, having clear areas for certain types of traffic in a warehouse can make workplaces safer. Specify certain lanes for forklifts only and others for pedestrians only. By doing so, you greatly reduce the risk of pedestrian-forklift accidents. Placing signs that designate lanes can reduce the risk further.
Consider aisle width
Aisle width plays a large role in the safe maneuverability of lift trucks. If a truck can't make its way down an aisle or turn around without hitting a shelf or other asset, or frequently has near misses because of space constraints, it's much harder to prevent accidents. Here's a basic rule of thumb for determining the proper aisle width.
Add together the following:
The head length of the forklift (the back of the truck to the load backrest).
The load length of the forklift (the back of the pallet to the front, including overhang).
12 inches for maneuvering space.
6 inches for additional overhang.
If your aisles do not meet this spatial requirement, then it's time to change the layout of your facility to improve its safety.
An on-site facilities technician can identify ways to improve warehouse safety and make brand-agnostic suggestions that will benefit your work environment. Learn more about the benefits of embedded technicians by contacting National Maintenance Services.