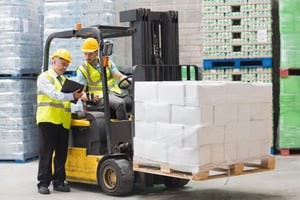 When the time comes to choose your next power partner, there are a variety of factors to consider. Obviously, each motive power operation is unique, so each operation has to find a new partner that fits their business, and one that offers the most advantages over a long-term timeframe.
Knowing that one size never fits all, we still pulled together a list of items to consider the next time you're forced to choose a new motive power partner.
First Things First: Do You Even Have an Engineered Power Solution?
You'd be surprised by how many customers aren't even aware that power can be managed from top to bottom, and that a motive power system can be engineered and designed to meet your specific needs. Once you view your power operation through this prism, it can lead to lower cost of equipment ownership over time, and increased overall uptime as well. If you've never had a customized power solution, we promise once you have one you'll never look back.
Think Beyond Your Lift Truck Lease Term
Once you've made the decision to explore an all-inclusive solution, now you have to make an additional mental adjustment: power itself doesn't have to be tied directly to your lift trucks lease or purchase. Instead, you can have a vendor that specializes in designing motive power systems. The length of term might vary from your lift truck lease/life to maximize your savings and run-time, whether that's paid for separately or included. Viewing power separately allows you to consider the best possible design, one that has the ultimate goal of creating the most efficient set-up.
Consider the Need for Flexibility
The business climate, across many industries that rely on motive power, can change with the wind. When discussing partnerships, it's important to find one that offers flexibility that fits your business. For example, the ability to make system tweaks can be a lifesaver during periods of serious growth—and be more cost-effective than simply lumping new and mismatched equipment into the mix. When you're with a power partner that offers this kind of flexibility, your operation shouldn't skip a beat.
Make the Move to Proactive Maintenance
Many providers also include planned maintenance. This means that work like battery watering and equalization is included. Unfortunately, many problems with motive power batteries and chargers occur due to neglect. While some companies are more proactive, handling maintenance in-house or subcontracting it out, if you're working with a reputable power partner the maintenance will be included, which simplifies your entire operation.
Always Do Your Homework
Like with any big purchase decision, it's important to shop around to ensure you're finding the right match. It's not any different with a power partner. Once you've identified your candidates, be sure to get references to determine the credibility of your partner. You should also go as far as visiting some of their customers' sites so you can get a true bearing on how they operate. Seeing your power provider in action will give you the best sense of what your future might hold with them.
The Best Partnership Is the One that Fits Your Specific Needs
It's important to go into the process understanding that you shouldn't receive cookie-cutter options from potential partners. A new partnership should be customized to fit your exact needs. Remember, in the beginning it's a negotiation: feel free to push back so that you'll find a partnership that maximizes your motive power capabilities. That means the more your power provider allows you to have a say in the solution, the better off you'll probably be.