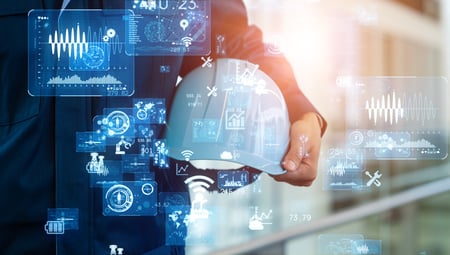 Maintaining critical power takes a great deal of time, attention, and engineering expertise. When one misstep can cost a company dearly in terms of dollars and reputation, the job can feel all-consuming—because it is. After all, ensuring critical power is done right (or performed correctly), requires constant vigilance and an intimate familiarity with the system.
In these days of budget cuts and stretched staff, it can feel like your team is being set up to fail. But what is the alternative?
Outsourcing this role to a critical power specialist means one less plate to juggle.
"Operations can't afford a second of downtime, but it takes a whole lot of dedication and specialized engineering knowledge to keep those power sources running and well maintained," according to Justin Kutniewski, Concentric Critical Power Account Manager. "In fact, that's the reason our company started in the first place. We realized that companies don't necessarily have the in-house resources to do this themselves and they benefit from letting a trusted partner take that off their plate so they can focus elsewhere."
In fact, Concentric was founded on the understanding that companies could not afford a second of downtime and that the task of securing consistent and reliable power was often too demanding for any one organization to manage alone. Kutniewski says Concentric has spent recent years fine-tuning its all-in-one, power-as-a-service approach, noting, "When we talk about a managed power or perpetual power solution, what we're talking about is maintaining the entire power infrastructure of a facility on a day-to-day basis, and not just any singular piece of equipment once in a while."
Managed Power in Action
Kutniewski would know, because for a decade he has been overseeing the maintenance and readiness of the critical power infrastructure for a global home appliance company.
Back in 2012, for example, he learned of an opportunity to manage critical power in a 400,000-square-foot building in Charlotte, North Carolina. The company runs their North American operations out of that building, which features a central data center, core back-office functions, and company leadership. According to Kutniewski,"Without that building or data center, it was clear that the entire operation would come to a grinding halt, both for the building owner and its major tenant."
Fresh from an expansion, the building relies on 2.8 megawatts of emergency diesel generators for back-up, while its data center and critical loads depend on three 150 KVA Liebert UPS units. Concentric signed on to ensure these key systems were primed and ready to keep the power flowing.
Kutniewski reports that Concentric has been successful in doing just that for the past ten years: "The facility has never gone dark. From January 2012 to now, the client has never had an outage. That's the result of due diligence, preventative maintenance, and the fact they have someone like us committing their focus to those critical systems."
Powering Up
There are important benefits to outsourcing critical power management to a team that can make it their daily focus. When seeking that partner, however, it is important to consider several key factors:
Engineering know-how: Effective critical power management requires engineers with a specific skill set. A true expert will or must be able to propose, implement, and oversee planned maintenance strategies and system assessments, configurations, and overall power management.
Like the back of their hand: It is important that the critical power management partner knows every facility or building inside and out. Only then can they suggest solutions on the phone and react quickly and decisively if incidents occur while they are onsite. When every second counts, a technician cannot waste time trying to get up-to-speed on your physical facility.
Institutional knowledge: Constant staff turnover means that knowledge—about the critical power system, the facility, processes, and the business—walks out the door as well. Look for a partner that can retain employees. One of the reasons the Charlotte facility decided to search for a new critical power partner was that the facility engineer saw a new face on every service visit. In other words, a global company's data—and its ability to function—relied on someone who had to start from scratch each time.
Intense dedication: Loss of critical power could mean loss of business, data, and even lives. As such, critical power professionals must be available around the clock and ready to jump into any situation.
"I tell the people I work with and interview that this is more than a 9-to-5 job," says Kutniewski. "It's a different kind of lifestyle where you're expected to answer the phone at any time and go the distance to provide our partners with a sense of security."
Thinking back, he adds: "I remember when we first started working for that Charlotte building, I slept on-site several times to wait on a key equipment part or to make sure there were no failures. That kind of dedication pays off for the client."
Proactive stance: The worst time to consider critical power is when it fails. Your mission critical power management partner must make preventing outages their focus.
"Our goal is to be proactive: to find and fix tomorrow's problem today, so that our clients don't have the problem tomorrow," says Kutniewski. "When the lights turn off or something shuts down, it's too late. At that point, you're in full-blown reactionary mode.
"Your entire business rests on critical power coming through when it needs to. If your resources are stretched thin, it may be time to assess the risk level of the current situation and whether outsourcing is a better option. After all, when lives and livelihoods are on the line, it pays to know critical power specialists are making your power their priority.