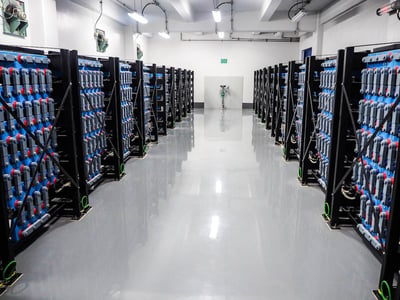 When the power goes out at your utility or industrial facility, what's your backup plan? How recently have you thought about your backup battery power system, ensuring it is suitable for your purposes?
Problems at any part of the critical power system can have consequences, from employee safety hazards to increased risk that the solution will fail, leaving the company with an outage on its hands. In settings such as communications and utility substations, that's simply unacceptable.
Battery charging is a key part of this infrastructure. You need to optimize your backup battery systems, ensuring your chosen battery charging system is capable and technologically advanced enough to always deliver the proper level of charge to your batteries of choice, never overcharging and always delivering levels of failsafes for maximum uptime.
Whether you install and maintain an industrial battery charger yourself or secure a power-as-a-service contract that includes charging as part of its offerings, charging should be a major focus area as you refresh your backup power infrastructure.
How to find the right industrial battery charger
Finding the right industrial battery charger for your critical power infrastructure is largely a matter of selecting the perfect batteries to match your backup needs, then matching a charger that suits those cells, whether you go with lead acid batteries (valve regulated or vented), nickel cadmium batteries or a rising option such as lithium ion batteries.
Setting up a stationary battery charger in a facility battery room or a substation does go beyond creating a match with your preferred battery types. You can also select between battery chargers that have various dimensions and mounting types — for instance, whether the equipment will be installed on the wall, the floor or a shelf.
The ideal battery charger for your backup needs will be able to stand up to its intended environment, providing a long service life and bolstering the overall reliability of the whole critical power system. Features found on industry-leading battery charging equipment include:
Alarms to alert personnel of the end of a battery's discharge, or for issues such as high or low DC voltage

Redundancy to keep battery charging operations ongoing even if the unit's user interface module suffers a failure

Moisture protection for circuit boards to ensure the hardware can function in humid environments

Large temperature operating range with convection cooling to guarantee that fans are not a failure point for the charger

Safety features to protect users and bystanders, including wire protection on field terminals
Some modern battery charging assets are often equipped with LCD display screens and digital controls to ensure they are easy to use. Other connection methods include direct connection to employee laptops, as well as Ethernet networking.
As with all parts of a critical power battery backup system, your choice of an industrial battery charger can occur as the result of a fully featured refresh. This begins with an assessment of your current equipment, as well as your organization's needs and a summary of the ideal assets to enhance reliability and performance.
After that assessment, it's important to engineer a solution that suits your specific industry, capacity needs and more. No two companies are the same, so no solution as important as critical power should receive a one-size-fits-all answer.
Once you have chosen and installed the perfect industrial battery charging system, it's important to keep that asset in peak condition through preventative maintenance. Today's equipment is well-engineered, but it's still essential to guard against unexpected downtime.
Why you may need an industrial battery charger upgrade
Critical power upgrades, for assets including but not limited to industrial battery chargers, happen for a variety of reasons. These issues can sneak up on companies, as the backup system may not even be noticed until it is needed. Of course, by that point, if there is a fault in the system, it will be too late to do anything about it.
Some of the leading causes of critical power issues, things that may be revealed in the course of a power assessment, include the following:
A failure of installation, documentation or maintenance: Some systems are in place for so long that their origins are forgotten or poorly documented. This infrastructure can stay in place for years because it "isn't broken," but if it is tested by a power failure, the weaknesses will become apparent. Rather than finding out about a poorly installed or maintained industrial battery charger in a moment of crisis, it pays to assess the existing system as soon as possible.

Aging batteries and related equipment: As parts of your mission-critical backup power infrastructure start to age, it may become more expensive to repair them and replace them piece by piece than to update to a modern model. The added advantage of such a replacement is that you gain access to the latest features on your new industrial battery charger, ranging from improved interfaces to reliability upgrades and more.

Need for consistency: If you want to ensure your entire critical power infrastructure is consistent, from the battery cells themselves to the chargers and beyond, you can replace your present system with a new, optimized version. Whether you opt to run the battery management functions in-house or select a power-as-a-service model, working with a single partner organization can clarify everything from tech specs to billing.

Clarity around ownership, accountability and total cost of ownership (TCO): In addition to giving you a fresh start from a technical perspective, upgrading your battery charging and related hardware also provides a good opportunity to revise best practices around everyday procedures, safety and more. You can also gain insights into the exact costs involved, then track them for the devices' whole usable life span. Whether you keep the responsibility among your team or turn to outside contractors, the change can be a positive one.
These motivating factors and more apply across industries and facility types. As long as you operate an industrial battery backup system, there is a need to check in and make sure every variable is being maximized, from battery life to reliability and beyond.
This need for technical soundness comes along with budgetary considerations. Your critical power infrastructure is essential to supporting your mission, so it can't be removed from the budget. With the right approach to keeping all relevant systems up to date, however, you can optimize spend in this area.
How optimized battery charging helps across sectors
An industrial battery charger is an essential part of the equipment lineup across all companies that use backup power. This includes some of the highest-pressure essential functions, from health care to utilities and other parts of the energy ecosystem.
Battery backup is also essential in data center settings, keeping customer data, important records and more safe. The emerging lithium ion battery backup option has become especially popular in these data centers, ensuring uptime with these high-efficiency cells.
Specific industries in need of reliable industrial battery charging solutions as part of their backup power infrastructure include:
Telecommunications and cable providers: In the telecom space, you need to ensure there are fully charged battery backups available at multiple points. From central and remote offices to outdoor cabinets attached to substations, critical power solutions are a mission-critical consideration.

Health care: In medical settings such as hospitals and clinics, the presence of a reliable battery backup solution can literally prove lifesaving. The battery room at a health care facility should be equipped with the latest and highest-tech solutions spanning industrial battery charging, monitoring and more.

Power generation facilities and utilities: At a generation site such as a dam or power plant, the stakes for battery backup solutions are high. In general, the utility sector must be able to count on its critical power technology to make sure it can focus on remediating issues when they arise.

Financial institutions: Safeguarding the integrity of the important and fast-moving data stored in financial institutions' high-powered data centers is a high priority for these organizations. Without a dependable way to ensure battery backups are charged to proper levels and ready for use, these companies are missing a key piece of redundancy.

Data centers: Large companies that run their own mission-critical data centers should be thinking about their critical power performance. The same goes for colocation and cloud provider data centers, with essential information belonging to numerous owners residing in their servers. These data centers' battery rooms must have the latest equipment to inspire confidence in tenants.
In general, organizations with critical power needs that are pressing enough to warrant the creation of dedicated battery rooms must ensure these spaces are equipped with assets that will provide both safe operations and reliable power generation when called upon.
Industrial battery charging systems equipped with sensors and alarms to detect under- and overcharging are part of this safety-first design mindset. These can be paired with devices such as spill containment systems and acid-resistant floors when using flooded lead acid batteries.
The spaces should also be designed in a careful and intentional way — for instance, the placement of battery storage racks is an important consideration. Furthermore, they should be kept at a standard temperature and well ventilated. Your employees should always feel safe when servicing the equipment, and though modern industrial battery chargers can survive in extreme environmental conditions, they shouldn't have to do so.
In the case of a power loss, your company needs to be able to count on its battery backup system, whether it is stationed in a battery room or a remote enclosure. As with design and installation, one way to gain confidence in the everyday operations of your critical power system is to purchase it as part of a power-as-a-service contract.
Power as a service and industrial battery charging
While the standard approach to maintaining industrial battery charging, maintenance and upkeep involves assigning an internal team of employees to the task, there is another way. After assessing your backup critical power needs, you have a choice: Will you build and maintain the new infrastructure in house, or select a power-as-a-service offering?
Using a managed service model is a way to make sure all necessary functions are taken care of by experts, without the need for hiring, retraining and upskilling. This approach also avoids the capital expenses associated with purchasing hardware in favor of a predictable monthly operating expense model.
The ongoing management of battery rooms and other critical power installations will have to be part of your organization's budget in one way or another. By deciding whether the upkeep is best handled by an internal or third-party team, you can take control of the nature of the spending and management. Managed service teams work to optimize the performance of systems, using their industry knowledge to ensure your backup system is ready when you need it most.
Expert assistance is always essential for industrial battery charging design
There is one common thread between traditional and managed service approaches to critical power and all its components: Your solution should be optimized to meet your company's needs. This is best handled by having direct input from industry experts.
A mistake at the design, installation or maintenance stages can limit the effectiveness of your battery charging and other essential processes, and given the mission-critical nature of these technology tools, reliability is key.
If it's been too long since your organization looked critically at its backup power solutions, or if the company does not have infrastructure in place, it's time to assess your needs.
The experts at Concentric are available to:
Inspect your facilities and assess your power needs

Design top-quality systems featuring top assets from leading vendors

Install hardware to ensure correct performance from day one

Perform ongoing tasks such as inspection and maintenance, as needed
Since Concentric's services are available nationwide, you can simplify your whole critical power infrastructure under a single provider, no matter how large or dispersed your organization is.
Whatever part of the industrial battery charging and overall critical power process you need help with, having the best partner on your side is an advantage you can't turn down: Contact Concentric today.