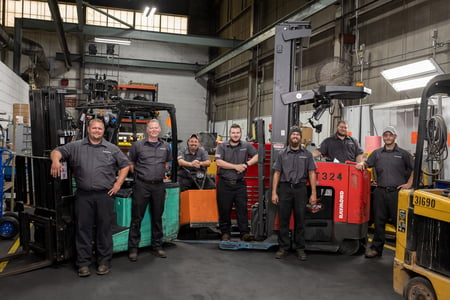 It might seem extreme to claim that, if it wasn't for a second mortgage, the forklift power industry would operate the exact same way it was decades ago.
But when Concentric—then known as ABT Power Management-- first started out, our approach to forklift power and material handling seemed so different that one of our first clients was afraid to commit. One of our founders had to guarantee the Concentric method by taking out a second mortgage to pay for the customer's system himself.
It nevertheless was successful, but we think the longer version of our story gives even more insight into what sets us apart—so if you're interested, read on!
How it all started
Early 2000s
Two veterans of the battery industry, Ken Fearn and Pete Chaffin, leave Douglas Battery, and start consulting manufacturers and distributors at high velocity facilities, run multiple shifts, with a fleet of at least 20 forklifts. They knew time studies were a crucial part of their consulting, yet the battery monitors they needed weren't yet available in America, so they imported them from Europe.
Fearn and Chaffin's work revealed that the traditional model of hedging against power issues by using three batteries per truck wasted money, time, and resources as well as safety and environmental issues. Customers kept multiple batteries on hand to forestall issues, but the data proved it unnecessary.
Fearn and Chaffin present their findings to a couple of their customers, explaining that they'd be able to reduce the number of batteries per truck. They also presented a new system and cost structure that worked for the customers because their plan still accounted for peak needs. That reduction would allow the customers to reduce their number of daily swaps, repurpose employees to other tasks, and save a million dollars a year.
One customer looked at the data, and said, "I see it. I believe it at a data level, but I'm scared to death to take action on it. I can't have my operation come to a halt. I can't do it unless you can guarantee it."
Fearn decided to do him one better. You guessed it—here's where he took out a second mortgage on his own house and used that money to fund the batteries himself. He not only guaranteed his mortgage, he guaranteed the customer's power program—which worked like a charm. Thus, one of our signature programs, Guaranteed Power, was born.
Proof of concept
2005 - 2009
The next few years were spent refining this new model. In 2005, we built the entire operational power assessment process (which is still being updated and utilized to this day). And also became an early adopter in IOT technology, testing out and learning about fast charge and opportunity charges, and changing how the manufacturers were operating.
Within the next couple of years, sensors and high-frequency chargers started to become more widely available. Concentric was already an early adopter and it reaffirmed that we were ahead of the curve.
2008 was a banner year: our focus on early adoption won us a contract with Campbell's Soup as we converted all their sites to fast-charge environments. Over the course of just one summer, we completely transformed Campbells' operations, taking them from three batteries per truck to 1.7 batteries per truck across all four Campbells' facilities. It's still our biggest deal to date. (And we're proud to say that Campbell's is still a customer.
The Concentric vision
2010s

Concentric engineers created RAAMS, a proprietary infrastructure integration tool which runs on IOT technology. It integrates all batteries brands and technologies, as well as chargers and sensors into one management platform to enable remote power management of GuaranteedPOWER(R) and other customer sites.
By this time, Concentric's core Operational Assessment and Engineered Design process was well-honed, having built over 100 systems in the first decade of Concentric's existence. This meant that each new customer would gain the insights from all of the previously designed and managed systems--to continuously improve the power systems that Concentric designed and managed for customers.
These foundational pieces taught us that forklift power, not forklifts, were one of the most overlooked areas of waste in the supply chain. Forklifts had already been optimized over the past few decades as they were what customers focused on--power had been an afterthought. Batteries, and more importantly thinking of batteries + chargers as a power system, were completely neglected by the industry. We were electrifying forklift fleets without really understanding the underlying requirements of what was required to deliver to an application's needs in year 2-5 of that equipment's lifespan.
Today
At the same time, Concentric's leaders were meeting their fellow battery distributors at nationwide conferences and manufacturer meetings. Together, these businesses became convinced that the solution to the "power problem" required the resources and expertise of like -minded businesses to leverage the core assets Concentric had built and bring them to a wider customer base. So, through a series of mergers, some of the strongest forklift and critical power businesses in the industry joined Concentric. Actually, it was during those first few acquisitions in which we changed our name together from ABT Power Management, Southland, Nolan, Courtney Industrial Battery, etc to Concentric.
This switch was done intentionally. These businesses needed a new brand in which to rally around. A brand that spoke to our "customer-centric" approach, as well as our technology-first mentality. We used details and data to drive decisions and provide tailor-made solutions. And not only that, our mergers enabled us to provide nationwide service for even the biggest corporations.
Today, Concentric has brought together some of the strongest forklift battery businesses in the industry: https://www.concentricusa.com/partners/acquisition-announcement.
We continue to innovate as the only forklift power business with its own application engineers and engineered design system. With hundreds of GuaranteedPOWER(R) contracts and the RAAMS(R) system managing thousands of battery and charger assets across a plethora of applications, Concentric's engineering team leads from data-driven experience, rather than just gut. This system allows us to tackle the hardest problems at our customers ranging from massive regional players to national companies, while ensuring consistency of cost structure and best practices at every facility. Today, we've added lithium batteries, thin plate pure lead, new charger offerings and hydrogen fuel cells to the list of solutions we deliver for customers in hybrid power systems and/or GuaranteedPOWER(R).
From the beginning, Concentric's growth has stemmed from our different approach. After all, this company was founded because someone saw a better way of doing things and took a risk.
And from that first single, understandably hesitant customer in 2001 -- who believed the data in front of him but needed the company's founder's own money on the line before he felt he could put his business in his hands -- to today, where Concentric now serves hundreds of GuaranteedPOWER(R) contracts, Concentric continues to innovate.