Introducing Critical Power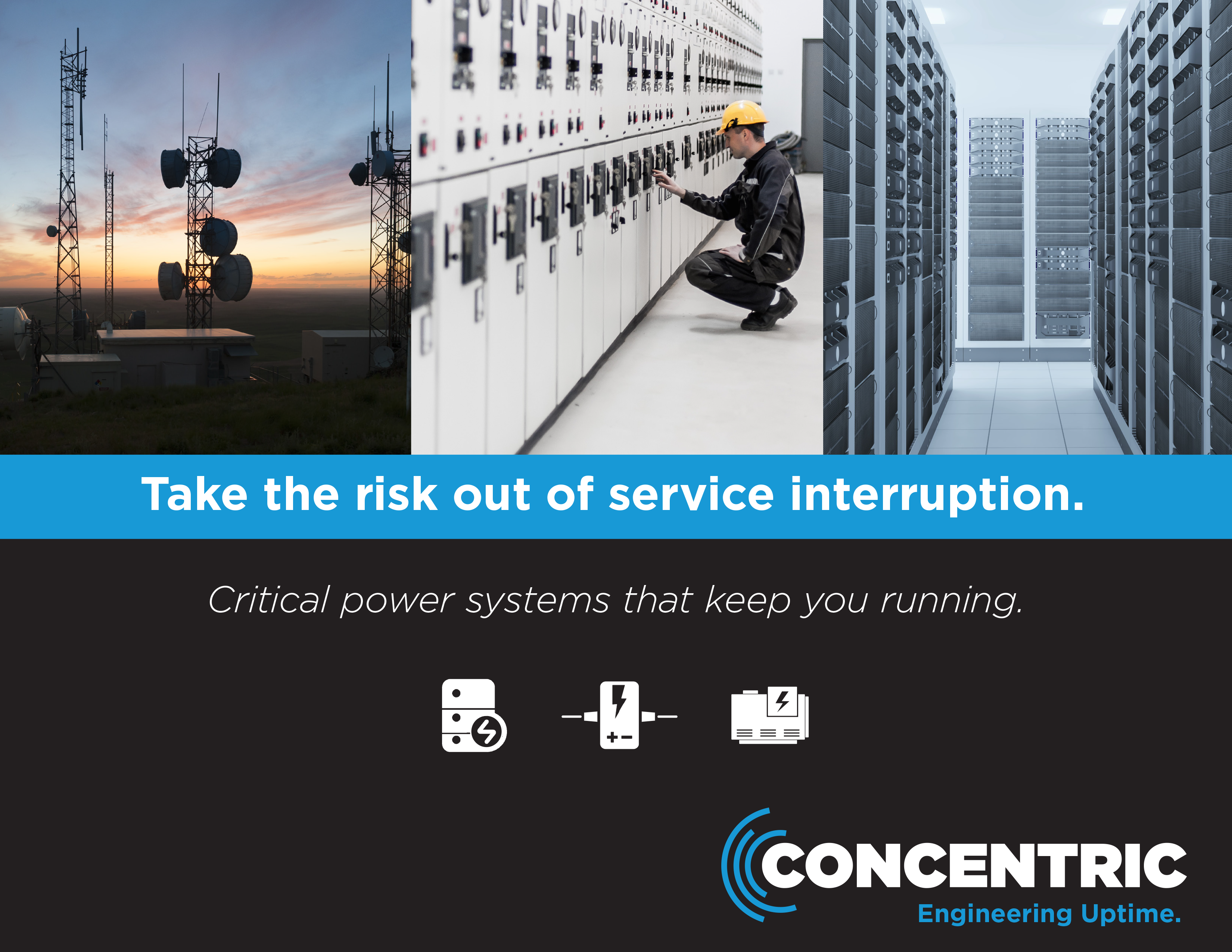 Concentric is proud to announce the launch of our new Concentric Critical Power Division, which was formerly known as Reserve Power.
Over the past several years, Concentric's Critical Power Division has built a seasoned team and a strategic supplier base that is ready to bring you the engineered system and management solutions you need to ensure that no matter what comes up, your business never goes down.
Our mission? To partner with our customers to design, install, and manage brand-independent, turnkey critical power solutions with fail-safe reliability.
From Reserve Power to Critical Power
Concentric wanted to bring the best subject matter experts in the industry together to build a nationwide powerhouse to service the critical power industry.
That's why we acquired five other companies to form the complete Concentric Critical Power Division. The Concentric Critical Power Team is powered by the combined expertise of these six formerly separate companies:
ABT Power Management

Courtney Industrial Battery

Integrated Power Sources of Virginia

Nolan Battery

Solaris Power Systems

Southland Battery
What was formerly our reserve power division is now Critical Power. And by acquiring the best companies in the business, we're now working as one Critical Power team.
Working as one unified team means that we've made it simple to gain complete command over every aspect of your critical power systems and operations—delivering higher reliability, a lower total cost of ownership, and a safer and more sustainable operation.
That's how Concentric Critical Power provides the highest level of comprehensive knowledge and options to ensure that your business never goes down.
What Critical Power Does
What does Critical Power do? Here's the short answer: Critical Power provides superior critical power products and equipment maintenance solutions for your operation, allowing you to focus on running your business.
Critical Power designs and manages brand-independent engineered power and maintenance solutions from conception through retirement that minimize the risk of costly downtime and service interruption using decades of brand-independent benchmarking data and experience.
Our critical power solutions start with superior equipment that is then integrated into the appropriate power system for our customers' needs. But we understand what many companies don't: that your power and equipment is only as good as your backup plan.
That's why superior equipment is just the start. What sets us apart is the reliability and confidence provided by our engineering expertise and continuous product and technology evaluation process.
From site assessment to integrated system design to equipment installation to ongoing proactive maintenance, we ensure that when your primary power fails, your backup power is standing ready to power your mission-critical infrastructure.
Our Critical Power solutions cover the entire critical power needs spectrum:
Site Audits and Assessments

Critical Power Solution Design and Engineering Services

Complete Project Management

Battery Systems Suited for the Application

Battery Chargers

UPS Systems

Switchgear Control Power Systems

Factory Witness Testing

Installation Services

Commissioning

Turnkey Power System Management

Battery Monitoring

Predictive and Preventative Maintenance

IR Scanning (Thermography)

Load/Capacity Testing

Equipment Repairs and Maintenance

Rental UPS & Batteries

Managed Battery Replacement/Recycling
You can learn more about our critical power solutions here.
Our systemic approach to building a managed power system has five key components:
1. On-site audit and assessment
2. Engineering design
3. Turnkey installation
4. Maintenance and reporting
5. Managing the replacement cycle
Our comprehensive, fail-safe process is why so many regional and national customers trust us to bring them the reliable power their industries rely on. We're trusted by our clients and industries such as:
Telecommunications

Information and Communications Technology (ICT) Infrasatructure

Data centers

Electrical Utilities

Oil & Gas

Industrial Power/Manufacturing

Facility Services

Government

Healthcare

Universities

Anyone with Mission Critical Digital Systems

Anyone with Switchgear
Concentric partners with customers to deliver brand-independent, engineered critical power solutions based on a mutual commitment to reliability, safety, quality and integrity. That means that we take you out of the role of worrying about each independent, disconnected part of the power system life cycle and become your advocate throughout the process. Best of all, our reliable, functional, optimized solution provides the best total value for your critical power operations.